With each advancement in technology, mankind is moving towards evolution – 5G being the biggest leap in mobile broadband history done by men. According to researches, by 2035, by the industries comprising IIoT will be $5 trillion approximately including some of the fundamental private networks for IIoT such as manufacturing, utilities, transport & logistics, construction, and mining. Each of the industries has its worth and importance in the world.
The mind-boggling aspect of IIoT in today's era is its silent penetration in our lives. In addition to this, 5G comes with some seriously impressive advantages when combined with IIoT – consistently fast speed for both: downloading and uploading, low – to – none latency, efficient transmission speed, the wider spectrum for connected devices, etc. the potential of 5G is beyond or comprehension – it will improve our lives in ways we never anticipated.
5G and Private Network for IIoT
Fifth-generation, commonly known as "5G", is the next biggest and most-awaited leap in mobile band history. The evolution was necessary, as the world moves towards the cloud digitization and businesses towards maximum optimization. A peak speed of 20 GB /sec will assist in several things including precision, cost, innovation, etc. Few of the industries with IIoT that will be most benefited from 5G are as follows:
Container & Shipping Ports
IIoT is on the apex of innovation – every other industry has components installed comprising IIoT. Light control, Air conditioning and temperature controls, air purification, smart parking – and on goes the list. When 5G is integrated with IIoT at Containers and shipping ports, we witness the effectiveness in operations. Optimization follows with secure operations on grounds. Few of the features which 5G enhances in private networks for IIoT are:
Container & Shipping logs
Trip timings and cargo loads. This feature requires low management. Protection of sensitive data such as departure dates, the content of each container, etc.
Robotic control
reliable control over containers and other repetitive operations.
Real-time Inventory 
supervise each element such as earth steels, manufacturings, lumber, etc. Furthermore, to keep track of each element's shipping date and routes, etc.
Storage updates
on-premises computerized updates of storage and other inventory data.
Smart devices 
Real-time asset tracking with information such as location, capacity, etc.
Public networking 
seamless interworking on both: on-premises and remote areas.
Manufacturing Industry
Accommodating the ever-growing demands for high-speed internet connectivity in every sphere of life – offices, industries, educational institutions, hospitals, airports, etc. many technologists believe that 4G – LTE is sufficient for today's need, but we are proving them wrong. For smart manufacturing, internet speed is not an only element – connecting a plethora of IIoT devices over the internet required more bandwidth of internet which is unavailable, 4G – LTE being insufficient for it. Few of the features mention below which requires 5G in private network manufacturing IIoT:
Mobile broadband enhanced
With the enhancement in mobile broadband, head-mounted displays AR (head-gears, glasses, etc.), security cameras, portative terminals, operation surveillances, etc. will become a seamless process.
Massive IoT
Massive IIoT devices and vehicles will be connected through 5G. AVG, sensors, process monitoring machines, and automatics, surveillance cameras, etc. Latency rate near to zero, 5G will provide a boost in smart manufacturing which is now a necessity.
Ultra-low holdups
with 5G in working, the latency rate is estimated to be ten times less than 4G. It will provide us with the power to execute remote actions in real-time with near to zero latency rate. Controlling plant machinery, industrial robots, edge computing and analysis, remote logistics supervision, management of precision instrumentation, and complete control of remote transportation system – automated and driver-less.
Utility Sector
The era we are in is competitive – the businesses are under pressure. To develop utilities such as electricity, the component production is getting more complex, human resource is aging as well as reaching the apex of cost, not to forget human exhaustion. With Smart Manufacturing, the robots and machines take over the repetitive jobs which provide us with life necessities. Electricity plants, gas productions, FMGC, wind farms, etc. are a few of the utility branches. IIoT is incorporated in these sectors as well, and with 5G; every sector will witness seamless operations, efficiency, and optimization. Wind farms with IIoT and in-near-future 5G with sync amalgamation provide:
Sensors & Inspections
To keep the performance track and inspection of drones, blades, turbines, environmental, and other sensors supporting operations efficiency.
Portable controls
 Hand-held computing devices such as command tabs, drones, remote control robotic arms, etc.
Trackings
 from vehicles to machines, from logistics, transportation to finished goods delivery tracks; IIoT with 5G – business is where you are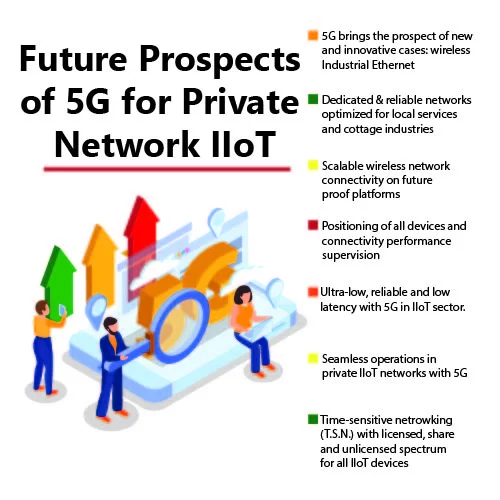 Private Industrial Network offering vital benefits for IIoT with 5G
Dedicated equipment in Private sectors such as manufacturing, transportation & logistics, utility sectors, etc. offering optimization with secure services & security to meet the specifications of local and international facilities those mentioned above. Specifications such as :
Optimized devices & operations with latency in all
time, synchronization, and manufacturing operations.
Dedicated networks for devices connected through 5G for IIoT
independent and easy deployment in every sphere of the industrial sector.
Secure network with sound security of data within the premises of sector
cellular-grade security to keep data from hand-held devices (mobile, tables, palmtops, etc.) and other computing devices.