Artificial intelligence (AI) is vital in many industries, including marketing and client targeting. With rapid advancements in AI and machine learning, companies can enhance their sales, drive more profit, and increase brand recognition. AI has immense potential to transform target audiences into loyal customers. Also, with advanced algorithms and processing, it can efficiently enhance customer engagement, relationship management, and lead generation.
One of the most significant benefits of AI is that it offers solutions based on analyzing target audience behavior and activity. Through analyzing customer data across various online platforms, such as social media, AI can provide recommendations for products and services based on the customer's preferences and interests. AI tools can seamlessly integrate into different systems to provide maximum benefits and help generate eye-catching marketing strategies, sales campaigns, and designs that align with customer demands. AI algorithms are modernizing with time, showing a new level of automation.
AI Role in Sales and Marketing
AI is a cutting-edge technology that enables machines and computers to simulate human intelligence. It harnesses advanced techniques such as speech recognition, natural language processing, deep learning, and machine learning to analyze historical data, detect patterns, apply logic, and generate outcomes that closely approximate reality. By recognizing trends and predicting behaviors, AI has become a vital tool in various industries, helping businesses streamline operations, enhance customer experiences, and achieve better results.
In today's fast-paced business landscape, companies increasingly use AI to boost their sales, automate their processes, and gain deeper insights into customer behavior. As a result, marketing teams prioritize adopting cutting-edge technologies and hiring top talent with expertise in AI, cloud computing, and data science to drive efficiency, generate more leads, and streamline the sales process. By embracing these advanced tools and strategies, businesses can stay ahead of the competition and better meet the evolving needs of their customers in the digital age.
Recent research conducted with marketers worldwide in 2022 showed that around 62% of the participants agreed to use AI as their marketing tool. Results also showed that the use of AI increased significantly from 29% in 2018 to 84% in 2022. These results indicated that accelerating demand for AI in marketing.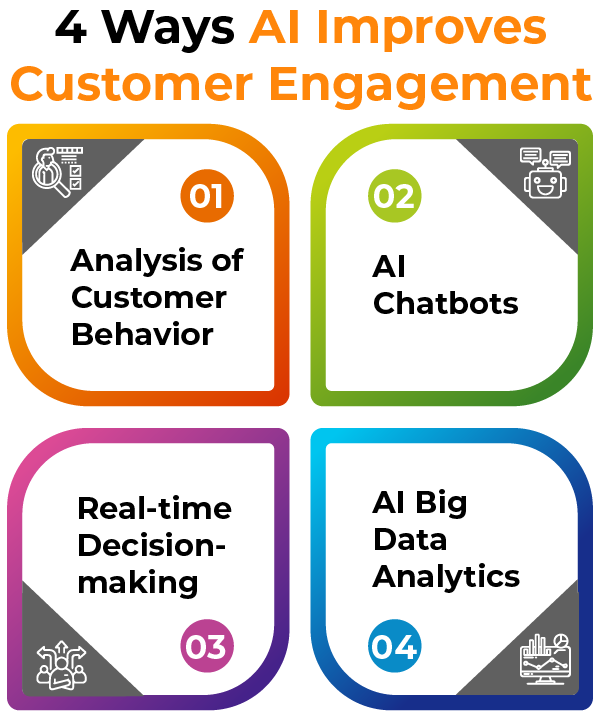 4 Ways AI Improves Customer Engagement
– Analysis of Customer Behavior
Companies must create efficient strategies to target clients and satisfy their changing requirements and wants as competition rises. Businesses use AI to examine consumer behavior and identify the most effective marketing efforts. With this knowledge, they may develop more successful marketing strategies, raising their odds of success and boosting sales.
Additionally, businesses may manage customer behavior more effectively by adopting cutting-edge AI solutions like consumer Relationship Management (CRM), which promotes greater engagement and loyalty. By examining client interaction throughout their relationship with the firm, businesses can spot opportunities for improvement and improve the entire customer experience.
Companies can get a competitive edge in today's fast-paced business world by utilizing AI to better understand their customers and improve their marketing efforts, resulting in growth and success.
-AI Chatbots
Chatbots use Artificial intelligence (AI) and natural language processing to study client behavior, anticipate their inquiries about a particular good or service, and automatically react to such investigations most efficiently.
This technology can manage complex interactions and comprehend client inquiries with intelligence. Moreover, they mimic human speech and respond to inquiries in the same way that people do. These characteristics have elevated chatbots to a key e-commerce and digital marketing platform.
Chatbots are a well-liked tool for businesses to interact with customers and raise customer satisfaction since they give customers a seamless and interactive experience. Chatbots can offer useful insights into client preferences and behavior by processing and analyzing enormous amounts of data, which can help businesses improve their goods and services. Moreover, they free up human resources for more difficult work, enabling companies to offer real-time customer service.
Chatbots have become a powerful platform for businesses to improve customer experience and marketing techniques, fostering growth and success in today's cutthroat market.
-Real-time Decision-making
Real-time decision-making relies on AI algorithms, which rapidly extract and evaluate data to reach predictions. A more effective and secure way of life has resulted from its extensive applications in several industries, including technology, medicine, and others.
These sophisticated algorithms use mathematical and statistical ideas to produce better results, assisting in making wise judgments and offering greater customer service. As technology develops, AI algorithms become progressively more complex, producing outstanding outcomes and precise real-time assessments.
– AI Big Data Analytics
As technology develops, a growing amount of data is produced from various sources, significantly making it easy to perform more complicated and substantial tasks. Modern data processing of datasets cannot handle these enormous datasets, and more sophisticated techniques are required to extract insightful information and produce useful intelligence.
Big data has emerged as a crucial part of company strategy, assisting firms in identifying and retaining their most devoted clients while offering chances to create new goods and services that cater to the changing wants of their clients. When integrated with artificial intelligence, big data can provide a powerful customer journey data analysis, enabling organizations to maximize their marketing efforts and generate more income.
Businesses may improve results, gain a competitive advantage, and make better decisions and forecasts using big data and AI. Any firm seeking to prosper in the digital era must be able to analyze and extract insights from big data successfully in today's data-driven world.
Future Aspects
Artificial intelligence is poised to transform how businesses interact with customers and conduct marketing campaigns as it develops. AI will become increasingly crucial in determining the direction of marketing and consumer engagement as technology advances, giving companies effective tools to engage with customers in fresh and creative ways. Chatbots and virtual assistants that use AI can offer personalized experiences.
AI will become increasingly significant in determining the direction of marketing and consumer engagement as technology advances, allowing companies to engage with customers in fresh and creative ways.
Conclusion
AI has completely transformed traditional business processes in marketing and customer engagement. By employing machine learning algorithms, businesses can gain significant insights into consumer behavior, preferences, and trends. Future risks and client preferences can be predicted with this knowledge, giving firms a competitive edge and increasing customer satisfaction. Chatbots and other AI-powered solutions enable superior customer care services and efficient management of customer relationships. With the continuous advancement of AI technology, we can anticipate it being a more widely used tool for companies trying to improve client experiences, comprehend their preferences, and boost sales.