The Internet of Things (IoT) has revolutionized traditional asset tracking and management methods. Asset monitoring solutions enabled by IoT provide better control over your system, machinery, and equipment. Also, it helps to increase productivity, security, and efficiency. Currently, there is a huge need to shift things to remote working. Remote work eliminates the need to travel long distances to work. It saves fuel costs, energy, and time use in commuting. In essence, it tracks the return on assets (ROA), reduces operational costs, optimizes operations, and increases the satisfaction of both customers and employees.
IoT-enabled remote monitoring solutions combine gateways, sensors, AI, and software to analyze and receive data cost-effectively and efficiently. You become able to have complete control of your data. IoT sensors alert you by sending data when there is any change in the parameters you intend to monitor. Additionally, you can remotely manage and track data via easy-to-use dashboards designed on specific software.
This blog highlights the need for IoT remote monitoring solutions, how they work, their application in asset management, and future aspects.
Why do we Need IoT Remote Monitoring Solutions?
One major issue companies face is security breaches and fraudulent asset tracking and management activities. After specific access, they become unable to track and monitor their assets. This results in huge challenges, such as loss or damage to assets, mismanagement, delay in delivery, loss of customer trust, illegal activities, etc. With IoT-enabled remote asset monitoring systems, companies can overcome these challenges. The system allows a strong real-time connection with the assets to track and monitor. The remote handling feature allows the company to save expenses and provide efficient services without traveling huge distances to reach the point of issue.
How Does IoT Remote Monitoring System Work?
The system incorporates several advanced technologies, including IoT sensors, cloud-based technologies, gateways, AI, and advanced analytic tools. The sensors help to collect data from the equipment. Via gateways, the system sends data to the cloud platform. Data analytics tools and AI process this data to provide actionable insights and send alerts.
This system is effective in different industries such as transportation, manufacturing, managing, and processing to increase operational efficiency, save cost, conserve energy and reduce downtime.
Because of its huge contribution towards sustainability, energy conservation, optimization, and error minimization, its demand is growing in the coming years. Companies are improvising operations and innovating solutions to retain customers and gain sustainable competitive advantage. Therefore, transforming the systems to remote is crucial for companies to take maximum advantage of IoT-enabled remote monitoring systems.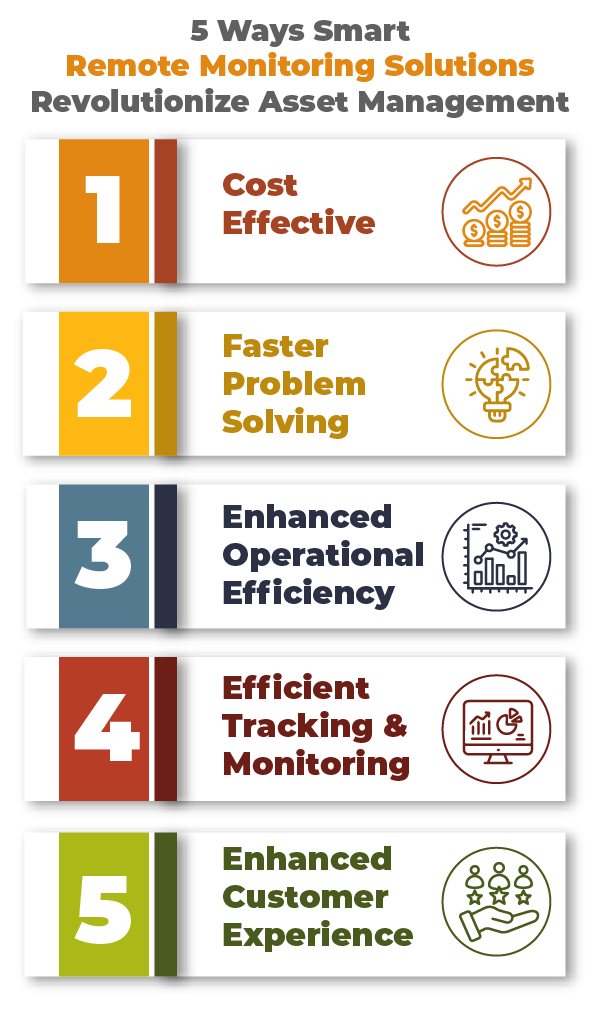 5 Ways Smart Remote Monitoring Solutions Revolutionize Asset Management
– Cost Effective
IoT-enabled remote monitoring solutions significantly minimize the laborers needed to perform routine business operations. Staff remotely can perform their duties, saving expenses on travel and office resources. Intelligent management software automatically analyzes and generates reports. Hence supervisors can work on other important stuff and prioritize tasks according to their needs.
Also, it reduces unplanned downtime and proactive maintenance, increasing the lifespan of assets. The smart remote monitoring system also helps to identify potential issues at an early stage, preventing organizations from suffering from the expenses of premature asset failures.
– Faster Problem Solving
The AI feature allows you to instantly predict, analyze, and respond to complex issues. The IoT remote monitoring system can identify problems and respond to them immediately. The system sends alerts remotely and even can manage the response on its own in many cases. For instance, the system signals to supervisors that an employee has made several access requests for any sensitive machine or confidential document. Even offside, the supervisors can set a strategy to lock the machine down or block the staff member out from an authorized device.
Experts can guide, access, and resolve the issue remotely without traveling long distances to reach the asset location. Also, it allows the technical team to diagnose and troubleshoot problems remotely and even smoothly.
– Enhanced Operational Efficiency
The smart monitoring system collects, processes, and analyzes data faster than humans. The system feeds data into the central database directly to process and report. In this way, it eliminates human error and dependence on staff to collect and record data. With advanced control capabilities and remote access, businesses can reduce downtime, streamline operations, enhance productivity, and lead sustainable competitive advantage.
One major challenge asset management companies face is to ensure that their machines and operations work properly. The IoT-enabled asset management systems detect temperature, vibration, humidity, pressure, and motion remotely and send alerts if they notice any abnormality in these patterns. AI and machine learning can also process data for effective decision-making and predictive analysis. All these implementations allow the companies to build operational resiliency and effectively handle unexpected challenges like natural disasters, health crises, and security breaches.
– Efficient Tracking and Monitoring
IoT-enabled asset management solution allows different industries to track and monitor their real-time performance. To elaborate, TrackPro, an IoT-enabled asset management solution, enables enterprises to locate assets and monitor their real-time performance using GPS sensors. Through this, companies can achieve their KPIs, detect anomalies and make informed decisions at the right time. Also, it has the unique feature of limiting physical locations by creating virtual boundaries. Fleet management companies get alerts when vehicles cross the border, minimizing crime rates and fraud.
Besides offering real-time feasibility, tracking, and monitoring, TrackPro monitors the tracker's health. It tells if the tracker attached to the vehicle needs a battery change or replacement. Also, the system sends alerts if there is an error in a tracker that results in sending incorrect information.
– Enhanced Customer Experience
One of the major goals of any company is to satisfy its customers. Suppose the company becomes successful in making its customers satisfied. In that case, it will increase its profits, enhance its reach, form a positive image in the market, and gain a competitive advantage.
IoT-enabled smart asset monitoring solutions enhance the customer experience by providing efficient services to manage their assets. The advanced system ensures security so you can remain worry-free from fraudulent activity.
Future Aspects
The IoT-enabled smart monitoring system can leverage quantum computing, smart algorithms of AI, and machine learning to provide perspective and predictive maintenance recommendations. It allows the system to provide more connected features for effective system management, enhance preventive maintenance planning, ensure sustainability, and achieve smart infrastructure. The system can integrate with other applications and advancements, such as smart parking and traffic management solutions, by working on data and identifying patterns.
The system can also use UAVs, drones, and laser scanning tools to provide 3D models, high resolutions of videos, images, and a 360-degree view of the assets, boundaries, and other facilities. Moreover, the system can adopt digital twins to develop virtual replicas of assets that simulate real scenarios and test hypotheses to make the best and most predictive decisions. All these implications can help the companies to conserve energy, save cost, gain competitive advantage, and contribute towards sustainability.
To Sum up
IoT remote monitoring solutions provide an advanced and modernized way of asset management. Previously, asset management needed huge planning, investment, a huge team, and the responsibility of managers. Even the workers must fulfill long duty hours and remain under huge stress until the asset reaches its destination. With the smart feature of a smart monitoring system, companies easily monitor and quickly locate and deploy assets in real-time. The remote inspection feature reduces the huge stress on management. Now, without needing to physically reach the location of an issue, they can monitor it from any place in the world and even guide engineers and technicians to resolve the issue virtually. Overall, it helps to increase operational efficiency, conserve energy, minimize risks, and enhance security and customer satisfaction.