It is a reality that the world is evolving at a great speed, given the boom in technological advancement. Each day we witness multiple upgrades and enhancements in our surroundings. Things or operations are becoming faster and more efficient, especially after the 5G revolution.
Seemingly, as per a report, with the emergence of 5G networking, the global economy is expected to increase by $13.2 trillion by 2035. The 5G revolution looks promising in driving major technological innovations for the future. Almost all sectors of the socio-economic nature are going to be influenced by such a revolution. Likewise, with more reliable connectivity and larger capacity, it will also add significant value to IoT- enabled smart solutions and advancements- in the end, contributing a lot to the easement of mankind.
4G Presence Vs. 5G Emergence
With the emergence of the 5G revolution, many questions its effects on the presence of 4G networking. These technologies are developed to perform things at higher speed and with bigger capacity. Compared with 2G & 3G, these technologies will experience their sunset with the 5G revolution.
Moreover, 5G networking or technology is also superior to 4G. Statistically, the 4G offers 25 Mbps speed, 20-30 MS latency with up to 1 Gbps bandwidth, while the 5G provides 200-400 Mbps speed, with less than 1 MS latency and up to 10 Gbps bandwidth. Still, the sun of 4G is not setting, given its better compatibility than 3G. To IT experts, 4G networking is still viable for developing IoT solutions and smart innovations. In addition, the emergence of 5G is not based on the removal of 4G technology. Rather, they will be utilized together in the coming future till the 5G rolls out globally and properly.
Nonetheless, the evolution from 2G, 3G, and 4G to 5G has been drastic and worthwhile. The advancement from 2G to 4G mainly focuses on increasing data transfer while enhancing user connectivity. However, the 5G revolution not only improves interactions between users but also supports user-to-machine interactions. It further facilitates machine-to-machine interactions, opening and promising great prospects for IoT-powered smart innovations.
Furthermore, 5G technology seems to take everything by force and speed. The birth of 5G networking has brought a new age of reliable and stronger connectivity, enhancing operations in different sectors, especially fleet management.
IoT in fleet management has transformed the sector by increasing efficiency and productivity. It provides fleet management with better sets of IoT-enabled smart solutions and technology to maximize efficiency. It has made possible real-time collaboration with all the stakeholders due to its fast-speed connectivity.
Nevertheless, here is how the 5G revolution with the collaboration of IoT can enhance and benefits fleet management companies: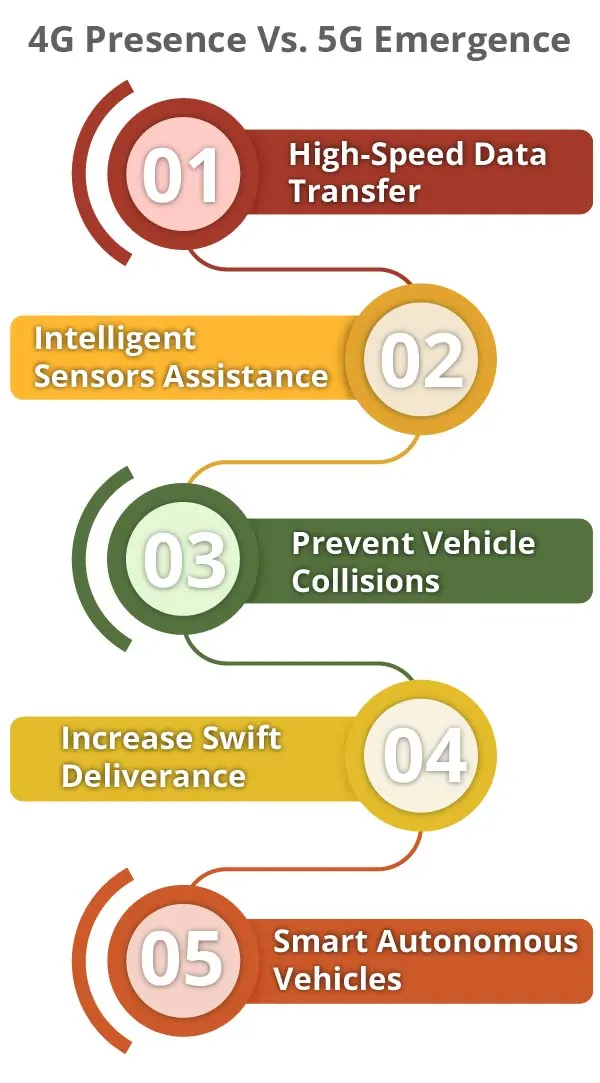 • High-Speed Data Transfer
The market is becoming saturated with IoT-powered smart solutions like TrackPro that are crucially beneficial for fleet management companies. Smart innovations like such help track the real-time location of the asset, including fleets and trucks, consistently notifying the fleet manager. This prevents time wastage, misplacement, or theft of assets or resources. Given the presence of IoT in fleet management, the lightening- natured 5G can further take the data transfer process to a new level.
The pace of 5G technology can enable faster and stronger communication between fleet managers, operators, and drivers. External updates like inclement weather, accidents, roadblocks, and other travel barriers can be uploaded to a cloud map, disseminating information in real-time to all. This helps fleet management companies fulfill their commitment on time by smartly allocating assets and fleets and pre-planning their routes.
• Intelligent Sensors Assistance
Nowadays, IoT in fleet management is gaining momentum in the market as all the competitors are trying to increase their proficiency and productivity while locking their horns with the desire to become the most dominant entity in the market. This has made the factor of data transfer at an incredible speed of utmost importance. Luckily, the 5G revolution is filling this gap. It provides data transfer at an astonishing speed suppressing the likes of 4G networking. Likewise, it also improves the sensor's working and operations. With a low latency ratio, it supports uninterrupted communications from sensors to drivers.
The impressive bandwidth of 5G will ensure significant support to the intelligent sensor assistance and further guarantee high-cost efficacy and efficient management. Also, incorporating smart sensors and fleet management software can offer timely predictive and prescriptive maintenance. They can alert the fleet manager and driver about low tire pressure and guide drivers about the best fuel-effective practices.
• Prevent Vehicle Collisions
The 5G technology can also help prevent vehicle collisions and easily avert many high risks and losses. Fundamentally, 5G can support advanced smart fleet management software by facilitating the operations of sensors in and around the Vehicle or fleet. These sensors can help model the 3D view of the road and vehicles in the surrounding of the user's Vehicle. Then the rule-based automated smart alerts to the driver, generated from such fleet management solutions and sensors, can reduce the risk of collisions and accidents. This technology or networking is paving the way for Vehicle to vehicle (V2V) communication.
Plus, other advanced driver systems like brake warning and lane-keep assist can collaborate with fleet management solutions. And together with 5G, the whole fleet management operations can move to a safer, more reliable, and more efficient working system.
• Increase Swift Deliverance
The speed and bandwidth of the 5G networking can increase the capability of artificial intelligence (AI) in fleet management. AI-driven telematics has revolutionized fleet management companies by integrating many tech-savvy IoT-based fleet management solutions and software. For instance, artificial scans can smartly scan drivers' behaviors and send them alerts to avoid using cellphone use, distracted driving, drowsiness, using the wrong route, and others.
Moreover, fleet managers can fully know the driver's behavior and performance with quick data transfer and strong connections. This can further help the fleet manager to deter the driver from performing sharp turns and speeding while directing them to follow the rules and regulations of the route. Hence, it ensures the swift timely delivery of orders.
• Smart Autonomous Vehicles
Another possible prospect of the 5G technology in fleet management can be the development of smart autonomous vehicles and fleets. The 5G networking can communicate or transfer the data at an incredible speed, making it easier to develop better automating and intelligent self-driven vehicles. This further creates a huge opening for smart steering and braking systems in the automotive industry, which will benefit fleet management companies. With the collaboration of 5G and IoT advancements, the goal of developing an efficient driverless vehicle seems to be promising and easier to attain shortly.
Plus, such technological breakthroughs will provide great prospects for fleet management, as the owner will be able to increase their operations' safety and efficiency. Also, the driverless feature will help in reducing labor costs and prevent human-prone errors, further improving the fleet management business.
Conclusion
The emergence of the 5G technology brings three advanced features: an unmatched speed level, a huge latency reduction, and an exceptional capacity for simultaneous connection with different devices. These features can bring a greater change to fleet management with the collaboration of smart solutions and IoT-enabled intelligent sensors. Indeed, pairing with the 5G network or technology can significantly enhance the efficiency and operations of fleet management.