Many people in their lifetime have witnessed long queues, traffic congestion, and severe hassles in an event parking lot while attending concerts or games in stadiums. Indeed anywhere in the world, there is a large ratio of people who sacrilegiously follow occurrences of such events. This explains the fact that, as compared to other areas, event parking lots and concerts face issues of long vehicle queues and overcrowded parking spaces.
People worldwide show up in large numbers to witness their bands perform their favorite songs live or watch their beloved players perform match-winning moves in front of their eyes. For instance, as per an article, the sport of soccer/football has approximately 3.5 billion followers across the globe. Literally, stadiums are jam-packed with millions of human heads during concerts or games like the Superbowl, football, baseball, etc. Nevertheless, the gathering of thousands of attendees results in multiple issues of event parking that could drastically worsen the experience of viewers or attendees. Likewise, below are several problems that arise during event parking.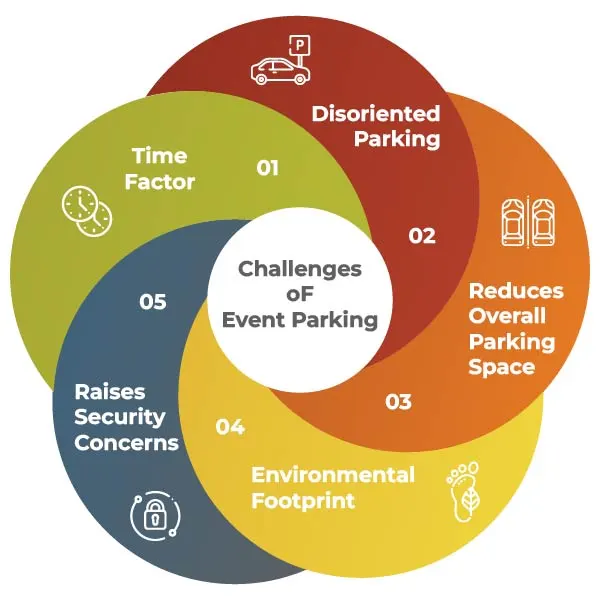 Challenges of Event Parking
– Time Factor
Generally, event parking includes manual access control methods and traditional parking mechanisms that decrease the efficiency of event parking management. Since the ratio of attendees is enormous, the conventional manual mechanism of car parking slows down the process, proving itself to be outdated. People have to wait long hours outside the stadiums even to enter the parking lot as a person is doing manual entry. This could annoy or vex fans as they might get late in witnessing the event or a match. Hence, the time-taking factor is one of the major issues during event parking that attendees may face via traditional parking mechanisms.
– Disoriented Parking
Another issue that can arise during event parking is disoriented or irregular parking of vehicles. It could cause an unusual or unorganized, less civilized vehicle parking pattern that can negatively affect the drivers' experience. Traditional parking mechanisms for vehicles may fall short in terms of regulating proper parking rules and regulations of the place, let alone comprehending and implementing the fine on culprits who park wrong. Plus, such disorientation in event parking may harm the people who have to leave early or in an emergency.
– Reduces Overall Parking Space
Event parking may depreciate the overall parking space in the area or parking lot. Traditional parking mechanisms and unorganized utilization of parking spots may adversely affect event parking management. It can reduce the overall parking area, causing further inconvenience among the residents and locals of a particular place near the event. Furthermore, this could also disrupt the traffic flow of the region, resulting in more disturbance citywide.
– Environmental Footprint
Long queues and overcrowding of vehicles around a stadium or place during special events may have a negative impact on the environment. By following traditional parking solutions and access control, many engines remain in idly running conditions. As drivers wait for their turn to enter the premise and get a security clearance, their vehicles tirelessly instill our precious atmosphere with harmful gases like Carbone dioxide and carbon monoxide. It is evident that event parking has multiple negative environmental footprints via manual access control.
– Raises Security Concerns
The utilization of manual parking methods and access control may have the possibility of errors and blunders. Since it involves a license plate check and vehicle data entry done manually by an individual, there remains a considerable probability of mistakes like an entry of an unauthorized vehicle on the premises of a special event or a car could enter without any proper search, etc. Thus, the manual access control of event parking can raise significant security concerns for the attendees.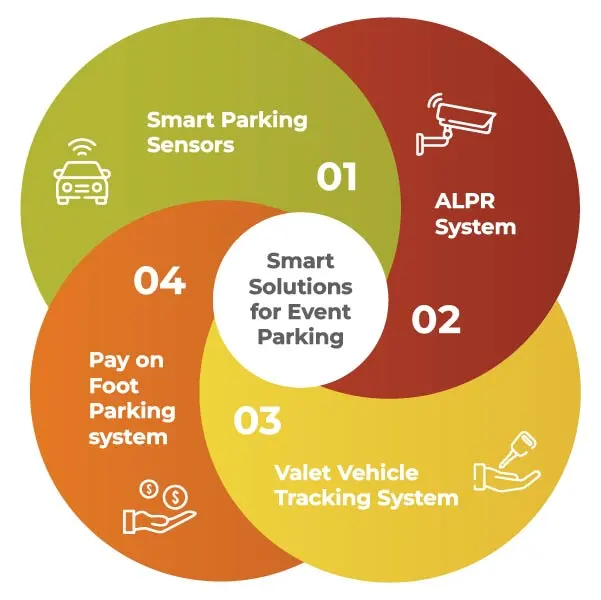 Smart Solutions for Event Parking
Given the importance of event parking management and access control, traditional parking solutions seem obsolete and dangerous. Instead, authorities should invest and incorporate multiple smart solutions or IoT innovations for fast and efficient event parking management. This could significantly reduce parking management expenses while raising the security standard of an event. Nonetheless, several IoT-enabled intelligent parking solutions could improve event parking management.
– Smart Parking Sensors
The world is constantly witnessing great transformation, primarily due to the boom in IoT technology, artificial intelligence, and automation. And like any other sector, IoT and others have immensely evolved transportation and parking management. Nowadays, smart parking sensors and solutions are present in the market that can help hassle-free car parking. IoT innovation and intelligent parking solutions like ParkSmart can aid in efficient car parking, with the fastest route to empty spots digitally available on an app. Plus, such parking solutions work on smart sensors that detect whether the spot is empty or not and highlight it on the app accordingly.
In addition, such IoT innovations work on cloud technology, so the data is securely stored on the cloud instead of perishable complex paperwork. This could reduce the carbon footprint on the environment. Plus, you can reserve a space by paying money online with such digital technology while transforming simple parking into automated parking. Hence, it can have enormous positive impacts on event parking management.
– ALPR System
Second, to the list of smart solutions for improving event parking is the ALPR system. The ALPR system means Automatic license plate recognition system, and again, it is one of the innovations possible due to the development of IoT technology and automation. This kind of automated parking system can increase the security standard of event parking by running an intelligent license plate check of the vehicle. Likewise, parking solutions like OLIOS are used for license plate recognition and can replace the manual access control of an event. Moreover, it uses OCR technology that accurately detects the license plate and stores the data in the cloud of vehicles that enter and exit. Plus, this prevents any error in access control and reduces the happenings of organized crimes
.
Also, with such license plate recognition technology, drivers can pay the parking fee digitally rather than physically while ensuring a fast, automated parking management system. Plus, this will also curtail the factor of idle engine running, save time, improve traffic flow, decrease carbon effects and enhance event parking management.
– Valet Vehicle Tracking System
Another smart solution for enhancing the event parking management can be a Valet vehicle tracking system or technology. This type of innovation basically refers to the mobile application that has integrated all the manual processes of valet services from booking to payment. Drivers, with such apps, can connect with valet workers, pay for their services, and request the return of their vehicle before exiting the premise of an event. Plus, it can help track your vehicle's whereabouts while you are attending the event. In other words, almost everything is made available to the drivers via mobile app.
Furthermore, such parking solutions can be very vital for enhancing the event parking management as you can effortlessly get your vehicle securely parked while you can attend the event timely. Plus, such innovative systems and valets have a better understanding of parking spots than the attendees, thus giving the former an edge. This way, it can prevent traffic congestion, theft, or hassles while saving ample time.
– Pay on Foot Parking system
In the parking industry, the term Pay on Foot parking system refers to a time-based barrier system of vehicle parking. This kind of solution utilizes ALPR or ANPR technology to facilitate and ensure efficient parking management. The integration of the technology mentioned above aids the Pay on foot parking system by scanning the vehicle's license plate on entry and exit. It helps the event parking management check and confirms a car's payment status while storing its timely real-time data on the cloud. In addition, it can utilize proximity card readers, a feature of online pre-booking parking spaces, and a wide range of payments through coins, notes, credits, etc.
The Pay on foot parking system can save time and money for event administration. It will reduce the requirement of parking officers and other officials while accept online contactless payments. Also, this technology can enhance automated parking of large-scale events by analyzing the data of high-traffic events and smartly regulating and allocating parking spaces to cater to the need of attendees.
To Sum up
In a nutshell, IoT-enabled solutions can enhance event parking management significantly. It can help the administration save time and expense and address security concerns while simultaneously providing attendees with a seamless and hassle-free parking experience. Smart innovations ensure fast and efficient parking of vehicles without disrupting the traffic flow of the city.