The process of transferring the information over a long distance is known as Telematics. Currently, telematics has been utilized in a wide range of industries for different commercial and non-commercial purposes. Nearly a decade ago, the word telematics was unknown to the world, but thanks to IoT and communication over networks, telematics has become the most important aspect of fleet operations. The two main components of fleet telematics include a GPS tracking device and a fleet communication software system. The majority of the trucking industries use fleet telematics to collect the data by using IoT sensors, GPS technology and onboard diagnostics codes. The collected data includes vehicle activity, driver behavior, vehicle location and real-time engine diagnostics. With the help of a designated platform or software, fleet managers can monitor their assets remotely. Fleet telematics offers benefits to a wide range of industries, and some of these benefits have been highlighted in the following article as well.
Information used in Fleet Telematics
Trucking industries use telematics devices along with fleet management software to collect real-time data and send this broad range of information over the internet. The kind of information collected in the fleet telematics include:
• Real-time location
• Speeding
• Idling time
• Hard cornering and braking
• Rapid acceleration
• Fuel consumption
• Vehicle usage and maintenance issues
The aforementioned information in combination with GPS fleet tracking can provide an in-depth insight into fleet patterns and driver behavior. This valuable information can later be used by fleet managers to lower the operating expense, improve fleet safety, reduce fuel consumption and waste etc.
List of Industries Using Telematics
The list of industries that are widely using telematics to manage their day-to-day operations are:
• Trucking and transportation logistics
• Delivery and courier companies
• Car rental and leasing companies
• Construction companies
• Towing companies
• Transit fleets, for instance, taxis, public transit and motorcoach etc.
• Food and beverage businesses
• Public agencies, patrolling and police officers
• Waste management fleets
• Supply chain
• Oil, gas and mining industries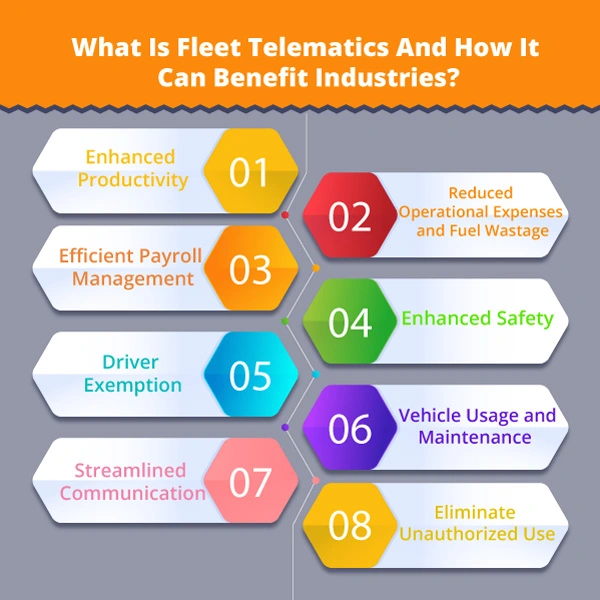 Benefits of Fleet Telematics
With real-time data and an advanced telematics system, fleet management companies can simplify their operations along with driver management to gain effective results. Here is the list of the top eight benefits of fleet telematics for different industries.
1. Enhanced Productivity
Fleet telematics offers real-time tracking of fleets with GPS. This continuous monitoring of the asset can assist the fleet managers in identifying the optimal routes, minimizing fuel expenditures, speeding up deliveries and improving driver safety. Apart from GPS tracking, the feature of Geofencing can play a crucial role in enhancing the productivity and efficiency of the fleets. For instance, performance can be tracked against the delivery schedule which can result in reduced detention time. Telematics can help in optimizing the pick-up and drop-off times along with reducing the driver's detention to a greater extent.
2. Reduced Operational Expenses and Fuel Wastage
The quickest and the shortest routes to the destination can be determined with the help of fleet telematics, which ultimately cuts the delivery time. With optimal or smart route planning, the efficiency of the fuel is significantly improved as the vehicles are not travelling longer routes and thus not consuming greater fuel. In addition to this, vehicle idling can also be minimized and the fleet management systems can identify drivers which are idling for too long. Fleet managers can inquire about the reason for idling and can suggest optimal solutions to the truck drivers. The overall use of telematics in fleet management can reduce operational expenses and stop the wastage of fuel.
3. Efficient Payroll Management
Fleet telematics also offers better payroll management as fleet managers can easily automate the driver's performance record along with streamlining the payroll. Manually assessing the performance of each driver is a tedious job. Automating such tasks with fleet telematics can minimize errors and can reduce clerical work. The fleet managers have all data about how long and how far each vehicle has been driven and use this information to calculate the payroll.
4. Enhanced Safety
Safety is the most important concern that has been prioritized in fleet management companies. The business can be potentially crippled even with a small collision. The power of telematics systems, fleet management software and modern-day fleet safety solutions altogether can enable fleet managers to significantly improve and correct the driver's behavior that does not comply with the road safety and regulations. This can ultimately increase road safety and can prevent the risk of injuries for drivers and others on the road as well.
5. Driver Exemption
According to a recent study, 44% of trucks and 56% of passenger vehicles are responsible for two-vehicle accidents. However, with no traces of evidence in such cases, fleet companies find it difficult to exonerate their drivers when they are not at fault. A fleet management system with an AI dashboard camera can resolve this issue. Fleet managers can use the recorded video footage to exonerate innocent drivers and save themselves from potential liabilities.
6. Vehicle Usage and Maintenance
One of the most potential benefits of fleet telematics is to alert the fleet managers or drivers immediately if any maintenance related issue is found in the vehicle. Automation features can be leveraged by fleet managers in order to schedule preventive maintenance once the hours of services information is taken into account. Brake adjustments, tires and wheels, and braking systems are found to be the top three out-of-service vehicle conditions. Advanced telematics in this regard can track down vehicle maintenance issues as soon as possible with real-time alerts and vehicle fault-code detection. This can help in preventing critical violations.
7. Streamlined Communication
Among other benefits, fleet management software also provides the benefit of streamlined communication among fleet managers, truck drivers, customers and other office staff. Geofencing, real-time location of the vehicle combined with the power of effective communication can eliminate the delays in the deliveries, better estimates and route optimization. This ultimately leads to customer satisfaction as they are getting their stuff delivered on time.
8. Eliminate Unauthorized Use
Fleet telematics also incorporate a driver identification system. Additionally, the system also uses Geofencing and it can immediately alert the managers whenever the vehicle goes beyond the geofence. Both of these aspects can eliminate the unauthorized use of the vehicle. For instance, drivers can mistakenly start using the vehicle scheduled for maintenance or repairs. With fleet telematics, managers can immediately notify the truck drivers about their mistake so that they can avoid using the damaged vehicle which might end up causing a crash on the road. Secondly, if the vehicle is stolen and goes out of the geofence then concerned authorities are immediately notified and the fleet managers have enough data to track their stolen asset.
Conclusion
With the introduction of smart devices and systems, the focus of the trucking companies has shifted to safety and technology. Many transportation businesses are acknowledging the potential usage and benefits of fleet telematics as it is helping fleet managers in becoming more efficient and proactive. Fleet management software or telematics system is enabling fleet managers to make data-driven decisions along with improving their day-to-day workflows for faster and smarter fleet operations.