Smart city planning aims to create innovative cities that leverage advanced transportation technologies, ICT, IoT, and other tools to improve quality of life and enhance services while promoting sustainability. This approach ensures that the needs of present and future generations are balanced, considering economic, social, and environmental factors. 
One key area of focus for smart city planning is mobility. People rely on transportation systems to get around when commuting to work or school. By embracing intelligent transport systems, cities can transform them, offering more sustainable and cost-effective options that reduce traffic congestion, crime, and discomfort. 
This article discusses an intelligent transport system, its technology, and its role in sustainable smart city planning.  
What is Intelligent Transport System
Intelligent Transportation System (ITS) is a cutting-edge technology that leverages advanced features to tackle traffic issues. By providing users with real-time information about public transport availability, costs, and traffic flow, ITS helps reduce traffic congestion and enhance commuter safety, comfort, and efficiency. 
ITS integrates various applications, including control, sensing, analysis, and communication, to improve mobility, security, and efficiency. With data sharing and processing capabilities, ITS enables traffic management and congestion minimization while also mitigating environmental concerns. 
ITS offers commercial and public users many significant benefits, representing a crucial advancement in modern transportation technology. 
Technology Behind Intelligent Transport System
The Intelligent Transportation System (ITS) is a critical component of the Internet of Things (IoT) and includes technologies such as Vehicle-to-Infrastructure (V2I) and Vehicle-to-Vehicle (V2V). It comprises both wired and wireless communication-based information and electronic technology. Wireless technology enables the system to connect vehicle information and location to other vehicles, remote and local infrastructure, and other transportation modes such as pedestrians, bikers, and cyclists. With the integration of IoT technologies, ITS has the potential to revolutionize the way we commute by creating a more connected, intelligent, and sustainable transportation system.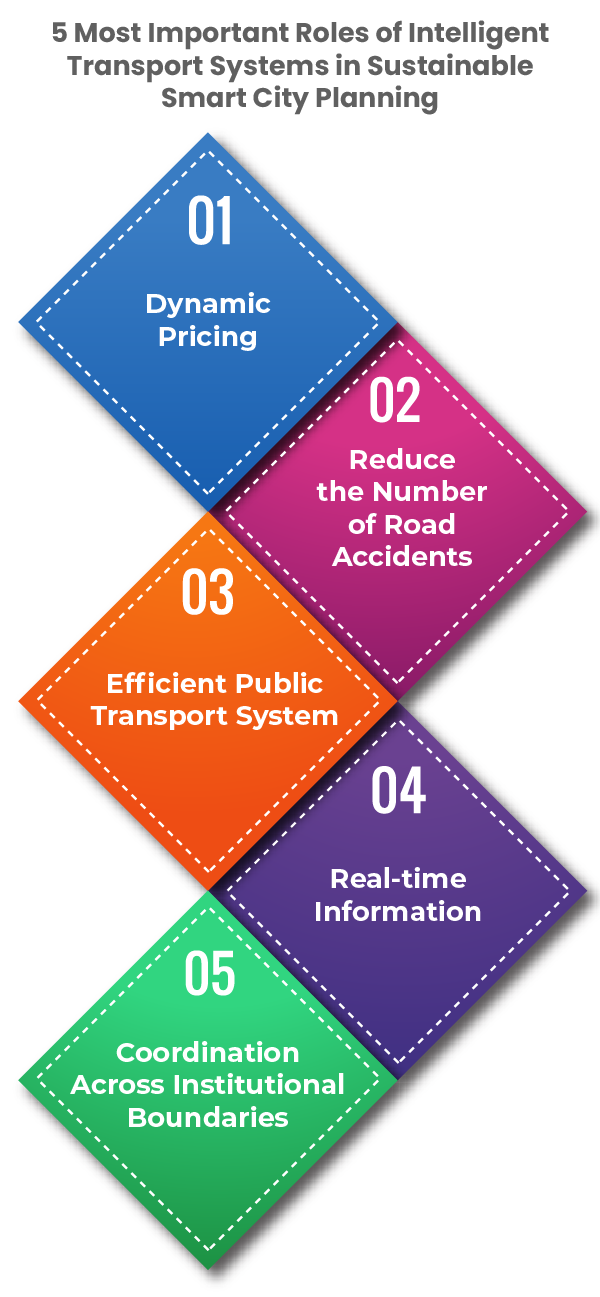 – Dynamic Pricing
Dynamic pricing is a crucial aspect of the Intelligent Transportation System (ITS) that helps address various transportation-related issues. Governments and authorities charge for ITS services such as smart parking facilities, public bus services, electric vehicle charging, and traffic management. The demand for these services increases with the increasing need and traffic. Dynamic pricing is a strategy of the business to adjust the prices of their services according to changing demand. It allows the optimization of mobility management for electric and traditional vehicles cost-effectively, peak load reduction, and congestion control. 
AI and machine learning are essential in designing dynamic pricing algorithms considering various factors to justify prices and satisfy users. The efficient implementation of dynamic pricing helps all stakeholders, including service consumers and providers. Furthermore, it benefits the government and the public by optimizing transportation services and addressing mobility and environmental issues. Moreover, dynamic pricing promotes the development of a society that emphasizes eco-friendliness by optimizing vehicle route planning. 
– Reduce the Number of Road Accidents
Intelligent transportation systems (ITS) have numerous applications, including enhancing vehicle and driver safety and security. ITS significantly reduces road accidents thanks to advanced software and the Internet of Things (IoT). For instance, car sensors and cameras behind the rear-view mirror help monitor road lane markings and detect if a vehicle drifts the lane. Speed, distance, and radar sensors also help to maintain a safe distance from other vehicles and control speed. These sensors integrate with advanced algorithms like curve radius prediction and neuro-fuzzy systems, allowing more efficient turning on curved roads. Using sensors in blind spot applications, such as radar sensors, provides drivers with information if a car is in a blind spot zone. Additionally, surround-view monitoring applications enable drivers to detect obstacles around the vehicle. 
These applications demonstrate how IoT and AI algorithms can effectively notify drivers of safety and security risks, reducing traffic congestion, road accidents, and injuries. 
– Efficient Public Transport System
One of the ways to reduce traffic and provide the public with free or very cheap transport facilities is public transport. Intelligent transportation systems are major in building a strong, connected public transport infrastructure.  
Using different techniques embedded with advanced architecture, Intelligent Public Transportation Systems (IPTS) provide embedded cutting-edge architecture. It offers passengers and drivers up-to-date information about tickets, trips, routes, packages, and network operating conditions. Users can track their bus from their mobile application and reach the stop at the time shown on a mobile app. They can also book their seats via their mobile app and pay online. It automates the system, ensures operational efficiency, and gives passengers a hassle-free public transportation experience.  
– Real-time Information
Sustainable smart city planning faces a significant challenge due to the growing number of vehicles on the road and traffic congestion. However, intelligent transport systems (ITS) offer drivers real-time updates and notifications, helping alleviate these issues. For instance, when a driver enters a specific destination, they can access information about travel time, distance, traffic flow, potential delays, alternative routes, weather conditions, and road diversions. 
By implementing ITS technology, it is possible to dramatically improve travel time efficiency, lessen traffic congestion, and guarantee both vehicle and pedestrian safety. The system directs barriers, turning spots, and the required distance along the road to ensure a safe voyage. Additionally, these devices can connect to hospitals, police agencies, and traffic flow authorities to alert them to abnormal activity. 
– Coordination Across Institutional Boundaries
The requirement to maintain cooperation across institutional boundaries, both at the regional and city levels, must be carefully considered while planning a smart city. Institutional boundaries describe the legal or administrative divisions that separate various organizations in the transportation system, including traffic management offices, emergency services, transportation agencies, and others.  
Intelligent Transportation Systems (ITS) can significantly foster coordination across many boundaries. ITS system design provides a unified platform for communication, data sharing, and decision-making. For instance, ITS gathers real-time data from various sources, including emergency services, transit vehicles, and traffic sensors, and communicates it with the appropriate authorities. It enables transportation organizations to manage traffic, emergencies, and transit operations with educated decisions. 
Through integrating management and planning, ITS enables companies to collaborate to address transportation-related concerns, such as safety, environmental sustainability, and congestion. Furthermore, ITS can enhance collaboration across various entities by offering a shared platform. For instance, a regional ITS system can assist transportation authorities in planning jointly, sharing resources, and achieving their objectives. 
Conclusion
The Intelligent Transport System (ITS) is revolutionizing the transportation sector. It uses cutting-edge technology to ease commuter traffic, improve efficiency, comfort, and safety, and lessen environmental problems. The Intelligent Transport System serves the needs of the present and future generations while considering economic, social, and ecological considerations by utilizing cutting-edge technologies like dynamic pricing, AI, and machine learning. Intelligent transport systems are essential for developing sustainable smart cities because they provide real-time updates, effective public transportation systems, reduce accidents, and cross-institutional cooperation. Combining IoT technologies has enormous potential to transform our commute and provide a more connected, sustainable transportation system.