Moving Everything through IoT
The main objective of every logistics company is to transport the cargo of every customer before or during just-in-time delivery. From fleet management to passenger security to delivery clocks and assembly processes, the logistics industries seek cost-effective and time-appropriate solutions that move both: people and cargos alike, that too, with utmost security and efficiency.
With time, the number of vehicles has increased exponentially. The challenge logistics industries face is the connectivity between every vehicle and asset. IoT provides explicit solutions for everything, including connectivity challenges. The IoT system developed which encircle logistics, transportation, and shipping is growing proportionally each day in both: the sophistication of tech and size.
Significance of Smart Logistics & Transportation
No technology remains hidden and unspent for long – same is the case of IoT in the Logistics and Transportation industries. Enterprises have already scratched the surface of mobile utilization in their organizations, the next big step towards the apex of technology utilization is of IoT everywhere of the company. It is a known fact the whichever form of logistics and transportation we mention – be it through the sea, ground, or air; is an essential part of the company's productivity. And to maintain both productivity and tracking of the fleet, access to real-time data, rapidly is vital.
The significance of IoT in the industry such as Logistics and transportation is the flawless connectivity and impeccable communication between each connected device and mode of transportation. Under the name of most crucial stakeholders, Logistics and supply chains top the list – IoT is influencing them both, smartly. Logistics and transportation companies are earning phenomenal profits by simply installing smart devices and letting IoT do what it does best. With bare minimum involvement from humans in the work process, delays are virtually zero, and no room for errors.
The time of merely moving products from one location to another is long gone. The concept is absurd to the ears of today's technology. What matters is to meet the demands of customers and stay on top of the competition. Over time, Logistics companies now ensure timely deliveries with cost-effectiveness. Usage of IoT in Logistics and Transportation is to have process optimization in-between each process stage.
Applications of IoT in Logistics and Transportation Industries

IoT connects devices from a simple cell phone to the most complex underlying networks of devices. From a driver's behavior to controlling the temperature within vehicles, and other such important factors. Numerous opportunities arise with IoT, few of the applications of IoT in the Logistics and Transportation industries are mentioned below:
Inventory and Warehouse Tracking
Logistics have a few of the most crucial components, one of them is Inventory tracking and warehouse. IoT-base Logistic system bases on these two factors – the process are simple: in-expensive sensors are installed within the warehouse from which signals will be generated indicating the location and status of a specific product/material in the warehouse. The position of a product in inventory is recorded through the same process.
Advantage: By implementing IoT-based sensors, delays, if any, will be insignificant. Human error will be zero will a low latency rate.
Supply chain Management of IoT
Though many consider the Supply chain a different field; it comes under the logistics head. A feature through which managers/supervisors can detect low-quality processed food or product/material easily. With this, both the manufacturer and vendor will be satisfied with the quality of a product.
Advantage: With the help of IoT's this feature, the vendors will have the utmost trust and will offer a guarantee of product to end-user.
Location Tracking
The greatest and principal factor of utilizing IoT in the Transportation and Logistics industry is the location tracking of every vehicle leaving and entering the warehouse. This feature enables the smart management of all: tracking of vehicle's location, loading and unloading of vehicles, performance, and other such factors.
Advantage: Logistics and transportation companies will know every detail about their vehicle – location, time to reach destinations, return time, weight, product security, etc.
Predictive Analysis
Everything, where prediction is needed, can be done through a predictive analysis algorithm – the same is the case with the logistics and transportation industry with IoT. Through this algorithm, higher management will be able to make decisions, gain smart insights, link improvements between potential clients/mergers, etc.
Advantage: With this feature, heaps of data are collected, filtered, and sent for decision making. The result is efficient and rapid processes of transportation, eradicating losses of both: money and product, and minimizing human efforts.
Trends in Smart Logistics and Transportation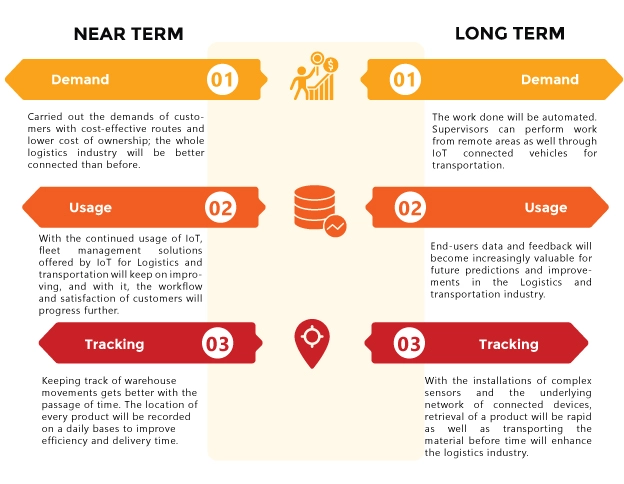 In a Nutshell
IoT has a widespread effect on everything – it is beginning to show its presence in the logistics and transportation industry as well. One of the most gaining beneficiaries from IoT, the logistics and transportation industry which bases on customers' on-demands, supply chain, and warehouse management is the pioneer in utilizing IoT. To ensure rapid and on-time deliveries, IoT has assisted the Logistics and Transportation industries with fleet management, inventory management, warehouse management, supply chain supervision, and finally safe transportation.