Internet of Things (IoT) has penetrated the world of educational institutes, challenging the traditional classroom learning system and campus structure. The adoption of technology and IoT-based sensor systems have enabled international universities to provide smart facilities to students and staff members and get recognition for that as well.
IoT plays the most crucial role in introducing innovation and achieving the concept of smart campuses or universities, along with providing a flexible environment where students can interact, learn, and enjoy their academic years. Gone are the days when traditional campus structure and learning systems were acceptable, as now, tech-savvy staff and digitally native students expect universities to become smart and digitally connected. Hence, they are using IoT to create smart campuses.
Smart universities utilize IoT devices and sophisticated network infrastructures, combining hardware and wired infrastructure to provide the technological benefits that can increase student engagement, boost operational efficiency, and improve staff experience with the educational institute.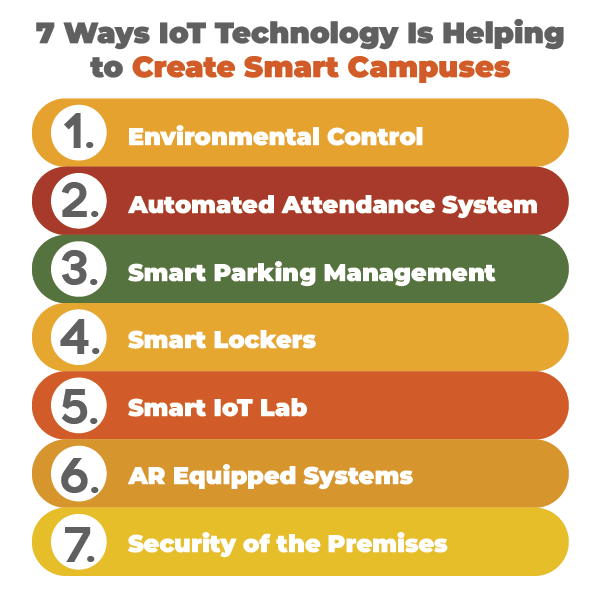 Considering the importance of technological developments in educational institutes, this article discusses the use of IoT to develop smart universities.
1. Environmental Control
Noise and air pollution inside and around the campus can impact the health of students and staff members in universities. Besides the health concern, noise pollution negatively impacts the learning environment and teaching activities. To eliminate such adverse concerns, university management can use IoT to make their campus smarter and free from pollution. IoT enables universities to control the environment and make it suitable for learning. For instance, at different points on campus, management can incorporate an air pollution control network to restrict road traffic and control the pollution levels when they are in high saturation. Similar can be done to control noise pollution by identifying the points of greatest saturation.
Another application is the use of smart waste management solutions such as BinWise, which can make the university environment litter-free and help the cleaners empty the filled bins on time.
2. Automated Attendance System
Manual attendance is one of the major concerns in universities, which is not only time-consuming but also has a high chance of errors in work. IoT holds the potential to become the most viable solution through which the burden of manually recording attendance can be reduced.
Barcode-based identity card numbers and biometric attendance can be integrated so that attendance is marked automatically whenever the student enters the classroom. This way, there is a minimal chance of error and discrepancies in recording attendance.
This IoT-enabled automatic system will facilitate the teachers in focusing on the primary task of teaching. The system also has the functionality of direct emailing to the parent of the pupils, informing them about their child's absence in the classroom.
3. Smart Parking Management
Parking lots in an educational institute demand proactive management to control the craze of parking before and after academic hours. Campus users who bring their vehicles on campus may find it challenging to find a vacant parking spot. Hence, IoT-enabled parking management solutions are critical for campus management to direct traffic and monitor the vehicles in and out of the parking lots. Systems like ParkSmart can also help the university management provide a hassle-free parking experience to students and staff members. Such systems not only help the management control the parking but also facilitate them in increasing the revenue by charging the vehicles exceeding their parking time limit. In short, smart campuses demand optimized parking spaces, which can easily be fulfilled using IoT technology.
4. Smart Lockers
While developing smart-university campuses, many universities have introduced smart lockers. Initially, smart lockers at colleges and universities were installed in order to aid in safe parcel delivery and return. However, they are now being used for several purposes.
In smart campuses, smart lockers impose several advantages, ranging from streamlining the on-campus delivery to optimizing bookstore activities. Moreover, a smart locker solution is a contactless pick-up and distribution for important documents, move-in supplies, educational material, smartphones, keys, etc. This also eliminates the chance of missing and stolen parcels.
5. Smart IoT Lab
Electronically controlled lab devices such as oscilloscopes, multimeters, transformers, variable isolation, and electron microscope can easily be connected to a common network with the help of IoT. The smart connectivity allows the researchers and students to generate accurate data from experiments and document it in a minimum amount of time.
It is more like equipping testing technologies with electronics laboratories that enable smart university students to create pilot projects. For instance, all the smart campus projects can be connected to the IoT lab and help create and monitor the control points to have a bird's eye view of the entire sensor network deployed in the university. Additionally, with the help of technologies like AI, researchers can create hypotheses and forecast the outcomes of the experiments based on certain predictions.
6. AR Equipped Systems
Augmented Reality (AR) is the advanced and enhanced version of the real world, which helps understand certain real circumstances with the help of computerized tools. IoT solutions, combined with AR technology, can make learning more efficient and effective for students. Proper details can be presented to students regarding the topic by scanning the barcode against the topic they are studying in the class.
AR technology combined with software can easily provide 3D vision and enhanced details of the topic, enabling the students to understand the topic in more detail. For instance, rather than theoretically explaining the anatomy of the human ear, it can be explained visually with the help of IoT and IoT, leading to more interactive sessions.
7. Security of the Premises
Most educational institutes have an inefficient infrastructure to detect criminal activities such as sexual assault, abuse, theft, and other crimes that might occur within campus premises. This indicates that they do not have any contingency plan if any emergency occurs on the campus. IoT, in this regard, can provide significant help. Management can identify suspicious activities and act accordingly by monitoring the campus activities on IoT-enabled cameras. Additionally, in case of short circuits and fire, the IoT-based sensors equipped within campus can activate alarms and identify the problem's area. This helps the campus management resolve the issue by immediately alerting the authorities, creating less harm.
In a smart campus, if anyone tries to break in, IoT-enabled smart lock systems become active and alert the campus management. Overall, it can be said that IoT is helping in ensuring the security of smart campuses.
Conclusion
Universities and other educational institutes are now embracing technologies to ensure productivity, security, and enhanced engagement of the students. IoT in this regard, IoT is providing innovative solutions and helping institutes become smarter. By eliminating the traditional problems of the campus with the help of IoT technology, universities gain a competitive advantage and ensure the best learning environment for students.