The students and faculty could spend valuable time on academic pursuits, which is often served in finding a suitable parking space. The only available spots are constantly on the opposite side of the campus, far away from their classes or offices. It also results in late arrivals and disruptions to the entire system.
The growing number of students who own cars and increasing enrollment numbers have created a rising demand for smart parking solutions.
What is Smart Parking Solution
Imagine never having to circle a crowded campus parking lot, wasting time and fuel. With smart technology like IP-enabled cameras and sensors, you can have a smarter and stress-free parking experience. These smart city solutions detect available spots in real time, making it easy to navigate the campus and minimizing the hassle of finding a parking space.
So why settle for a frustrating parking situation when you can have the convenience and peace of mind that comes with smart parking solutions?
Smart parking solutions offer drivers an efficient, hassle-free experience, cutting time-consuming searches and costly fees. With automated parking systems integrated throughout campus, drivers can easily navigate their journey from start to finish. Plus, they can enjoy a smarter and more convenient parking experience by paying affordable prices.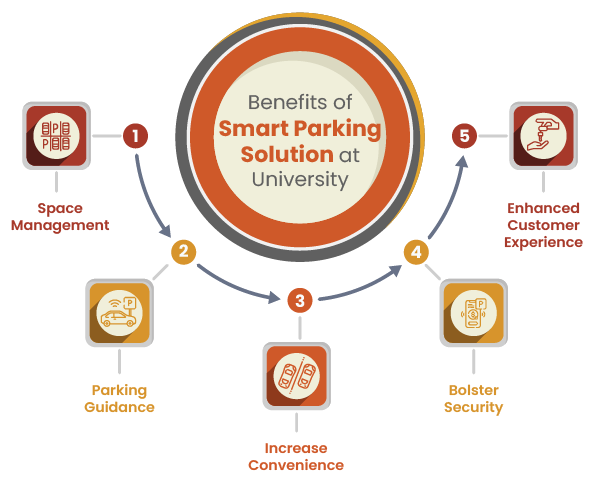 Benefits of Smart Parking Solution at University
Space Management
Due to the growing number of visitors, faculty, and students who own vehicles, finding suitable parking spaces has become challenging. The management faces significant hurdles in managing the parking space, such as dealing with illegal parking, worn-out parking spots, and distinct types of criminal activity. To overcome these challenges, the universities are now implementing smart parking solutions like ParkSmart, which streamlines the management of parking spaces. With ParkSmart, drivers can easily reserve parking spots, receive parking guidance, avoid parking in prohibited areas, access security features, locate parking areas through a mobile app, and make payments online. This modern solution simplifies the parking process and enhances the university's and visitors' parking experience.
Parking Guidance
Visitors and guests face issues searching for parking spots, so they mostly park at the wrong place or are involved in illegal parking. It also disturbs students and faculty. Also, they must face citations that make their overall campus visit experience too hectic. It also leads to a bad impression for visitors, and even many guests cancel their event bookings due to parking issues.
Smart parking systems allow drivers to benefit most from parking guidance and parking zone. They can easily locate the parking space available and navigate through it, allowing them to prevent issues related to parking shortages, high carbon emissions, traffic congestion, and long payment procedures.
Increase Convenience
Car park solutions provide ease and convenience to both the drivers and parking management. It helps to reduce traffic congestion and mismanagement resulting from finding parking spaces and parking at wrong, reserved, or illegal locations inside university campuses. The design of smart campuses helps people to navigate to the available parking spot easily. In this way, users avail faster and better parking services and become able to save time and fuel that wastes in searching for parking slots at different locations.
Bolster Security
Safety is a top concern for many people when searching for suitable parking facilities. Luckily, connected systems provide valuable data about your car and parking lot, allowing you to monitor and receive notifications if any unusual activity occurs easily. Smart parking offers a comprehensive solution for managing parking violations, enhancing law enforcement, and promoting safety. With its advanced features, users can receive traffic guidance and avoid situations leading to unlawful activities.
Enhanced Customer Experience
Smart university campuses' parking management team is revolutionizing how users interact with parking facilities. ParkSmart app offers real-time updates on parking space availability and congestion levels. Moreover, its automated payment option and vehicle security features provide users added convenience and peace of mind. Overall, it makes an entire experience more efficient, stress-free, and enjoyable for users.
Conclusion
Smart parking solutions allow universities to offer adequate parking facilities and navigation to the nearest parking lots. It helps to minimize congestion issues, carbon emissions, and fuel consumption. With IoT sensors, real-time data, gateways, automated data, and mobile applications, users get a wonderful parking experience. Also, data and reports generated from the connected system allow the management to make informed decisions for better infrastructure. All these features make it a worthwhile investment for universities.