Every person has a different imagination for their dream houses. Those buying a home for the first time agree that they want to automate their homes, such as controlling automatic music and lighting system according to their mood and taste. Smart home technology for persons with disabilities also helps update homes to transform their living experience.
Smart home automation allows turning your dream into a reality. It enables automatic control of electronic devices remotely and independently via internet devices and different software for designing homes. To illustrate, a person can turn off lights automatically via scheduling when he wants to sleep, or a person can have a thermostat to turn the air conditioner on an hour before he comes home.
Smart homes can integrate with smart wearable devices such as VR headsets, smartwatches, and wearable electrocardiograms to provide wonderful, luxurious, and entertaining experiences while saving billing costs. It also provides a highly secure environment along with security and emergency services.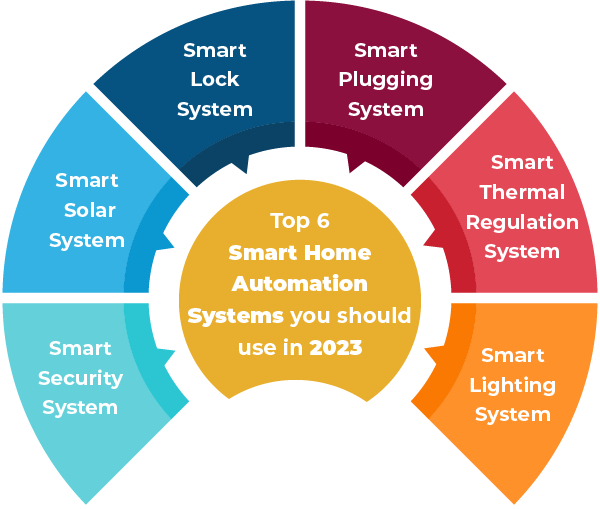 Smart Lighting System
The automation industry companies work on making top-quality, reliable, and cheaper smart LEDs. Smart light bulbs not only illuminate your home but also transform the atmosphere according to the occasion or mood of the user. These bulbs can connect with other smart home devices, such as television and security systems. It allows the smart LEDs to turn on while detecting motion, according to set time and music played on television or sound system.
Smart Thermal Regulation System
One of the top IoT applications is a smart thermostat. It adjusts your home's cooling and heating system to keep you comfortable. When it connects with different devices or software, it makes your living experience more convenient. For instance, when it integrates with Conure's PyroEye (fever detection solution), the person who has a fever not only gets notified, but the room's temperature adjusts accordingly.
Smart thermostats have versatile features such as voice control and geofencing. Voice control allows setting temperature with voice, and geofencing allows to adjustment of the temperature depending on whether people are in the room.
Smart Plugging System
A smart plug is a Wi-Fi-enabled small power adapter that easily plugs into a wall outlet and regulates electricity flow to the connected IoT devices. It helps the user to control the plug from a mobile app, display, or sound.
Also, it easily integrates with different smart home platforms, home appliances, and wearables technology and takes commands through voice assistants like Google Home and Amazon Alexa. In this way, it allows disabled people to handle things without any human dependence, and users can also control things even if they are not at home.
Smart Lock System
Smart locks are revolutionizing home security by allowing homeowners to enter their homes without needing a traditional key. Instead, these locks use personal identification or social security numbers to grant access. They also provide an extra layer of security at the entrance, enhancing the home's overall safety.
In addition, smart locks offer unique password options for delivery personnel or guests, ensuring that only authorized individuals can enter the home. Some advanced smart locks even come with voice control options, providing convenient and hands-free control for homeowners.
The smart lock allows the users to use smartphones, automated cars, voice assistance, or a key fob to verify wirelessly and unlock the door mechanically. It lets you control door opening from far or near, get a notification when someone enters or leaves your home, and automatically give guests or home delivery boys access.
Smart Solar System
When we refer to a 'smart solar panel for home, we mean a solar energy system that runs through a solar inverter and smart meter. The smart inverter converts direct current into alternating current to form electricity. The system connects via different smart home devices like mobile applications to monitor electricity consumption in the house.
The smart meter allows the monitoring of energy use from the solar system and provides real-time performance data of the energy system. Also, it helps to adjust energy consumption according to the supply of solar energy, can modify your energy demand, and protect the grid from over-voltage.
Smart Security System
Security is a common reason people want to adopt smart home systems. Smart security systems provide a secure environment that allows people to live fearlessly and sleep well.
Most people live far from their families alone. Therefore, no one is left behind to look after their home when they are at work or out. Also, in working from home, they cannot give proper attention to work due to security concerns.
Smart security systems connect with smart devices via the internet. It provides high-security features and smart monitoring. It allows users to monitor and view live footage from their smartphones or laptops anywhere. Users can also get notifications if any unusual activity occurs or when the alarm turns on or off. Even the system can send messages to the police or concerned authority in an emergency.
In a Nutshell…
The smart home automation system allows the connection of all devices virtually at home. It helps save energy, adjust lighting and temperature, control devices from afar, auto lock or unlock, schedule devices to turn on and off as needed, monitor home activities from far and get alerts for added security. With a smart living experience, users who are disabled can also live independently and enjoy living without requiring human assistance.