As time progresses, the security threat landscape continues to evolve and expand. With the world population rapidly increasing, areas previously considered low risk are now experiencing significant security challenges. To meet these challenges, the focus on security has shifted towards leveraging advanced digital technologies to provide effective solutions.
Traditional security strategies are no longer adequate in addressing the complex and evolving security threats individuals and organizations face. Smart security systems incorporate advanced implications such as machine learning, the Internet of Things (IoT), and artificial intelligence (AI) to tackle the latest security challenges.
For instance, in the context of smart homes, one of the top priorities for users is advanced security systems that are highly automated and capable of real-time threat detection, monitoring, and sending alerts. Integrating smart security trends in smart homes can help meet customers' needs and demands.
Need for Smart Home Security
According to a survey on the use of home security systems, it is found that 620,000 burglaries recorded in 2021 in the United States. These burglaries resulted in a massive property theft of $737 billion, of which household goods account for approximately $39 billion. However, there has been a 31% decline in burglary rates since 2020 and a 68% decline since a decade ago. The reason is many American homeowners have started to adopt smart home security systems. It is expected that the home security industry will witness a growth of 34% in North America by 2026.
Latest Smart Home Security Trends
In today's world, companies are embracing various security trends and tailoring them to different sizes and functionalities. From smart lighting and appliances to smart sensors and surveillance, they provide effective security solutions for designing smart homes. Also, almost every latest smart home ideas and trends reflect the importance of the implication of smart home trends.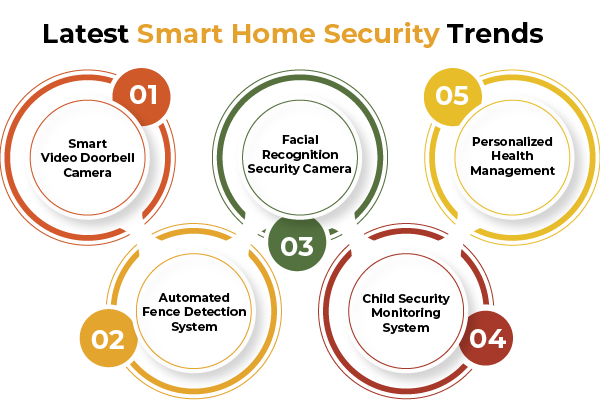 The top five smart security trends you should know are discussed below:
– Smart Video Doorbell Camera
A smart video doorbell camera protects your home from burglaries and package theft. These cameras feature built-in technology that enables them to stream live video to your smartphone, send security alerts, and allow two-way communication with anyone approaching your front door. With these devices, you can monitor your home and observe deliveries, even when you are not there. You can show authorities video proof of the theft if a package goes missing.
Smart doorbell cameras are available in both wired and wireless versions. They can easily integrate with other smart home devices, such as smart door locks, thermostats, and smart lights, to provide an even better user experience. With this integration, you can control all aspects of your home from a single app, making managing your security and energy usage easier than ever. By upgrading to a smart video doorbell camera, you'll gain peace of mind knowing that your home is protected 24/7.
– Automated Fence Detection System
A fence detection system is essential for securing your property against intrusion attempts. These systems utilize advanced sensors to detect vibrations caused by climbing, cutting, or lifting the fence. With the latest versions, such as AssetGuard, you can receive early warnings of breaches and threats on the perimeter, giving you peace of mind with False-Alarm-Free reliability. The Zoning feature also provides precise location information for lifts, cuts, or climbs.
One of the benefits of these systems is that they are solar-powered, which means there is no need for electricity consumption. This feature ensures that the system operates continuously, regardless of the weather or time of day. Additionally, these systems are not dependent on human intervention, making them ideal for creating a secure environment with minimal effort.
Another benefit of fence detection systems is sending alerts directly to your mobile device, providing real-time updates on breaches or attempted intrusions. This capability allows you to take immediate action and prevent unauthorized access to your property.
– Facial Recognition Security Camera
Facial recognition technology is one of the most prominent and sought-after security trends. Security cameras equipped with facial recognition features are gaining popularity rapidly. This technology measures and identifies facial features in real time, allowing it to determine whether two images or videos belong to the same person. It can quickly detect people on camera and send an alert if an unknown individual enters a secure area or someone blocked through system settings attempts to gain access. When integrated with smart locks, doors can only be opened by individuals granted facial authentication access.
With the advancements in AI, technology is being constantly upgraded to provide better and more accurate results. These cameras are highly in demand for designing smart homes and are readily available in the market. This system offers a range of advanced features, including smart alerts, navigation technology, weather resistance, motion detection, and continuous monitoring. It can also integrate with Google Assistant, allowing for voice command functionality, and provides cloud storage that operates 24/7. These versatile cameras can be installed indoors and outdoors, creating a highly secure and automated environment for homeowners and businesses alike.
– Child Security Monitoring System
Parents are concerned about their children's security. If they experience any abuse or threat in their daily life practices or when they are alone, they face difficulty in expressing and protecting themselves. A child security monitoring system protects children from being attacked. It is an autonomous real-time monitoring system that collects data from sensors like pulse, temperature, and metal detection.
It also detects GPS location and alerts the guardians about the status. It comes in the form of a wearable smart band that children can wear. This IoT smart band guarantees protection, and children feel confident and protected. Alerts in emergencies can also send directly to the security staff to take necessary measures for their safety.
– Personalized Health Management
The healthcare industry has seen a rapid transformation in recent years, thanks to the advancements in Artificial Intelligence (AI) and the Internet of Things (IoT). These technological implementations have developed innovative products to improve human health. Personalized health management is now possible with innovative technologies that can be used at home.
Sleep tech, an automated fever detection system, smart pet care, health monitoring, emergency detection, illness diagnosis, fall detection, and smartphone applications designed to meet specific health needs are some of the remarkable developments in this field. Moreover, touchless technology and smart detection systems are helping people live independent and autonomous life without requiring human assistance. These technologies include automated door opening and closing, touchless hand sanitizing, and the ability to call for emergency or virtual services at any time.
Conclusion
Smart home security systems are becoming increasingly essential because traditional security strategies can no longer address complex and changing security threats. Smart security systems incorporate advanced technologies such as machine learning, the Internet of Things (IoT), and artificial intelligence (AI) to tackle advanced security challenges. The latest security trends and techniques provide effective security solutions for designing smart homes. From secure home assistance to smart monitoring, digital advancements are revolutionizing smart homes. Integrating smart security technologies can help meet customers' needs and demands, giving them peace of mind by knowing that their homes are secure.